The Netherlands Enterprise Agency (RV0), Wageningen UR Food & Biobased Research has developed a method that can help companies and government authorities create biobased chains, from source materials to end products. The method was developed out of a need for companies to develop successful production chains for the production of biofuels or biomaterials from biomass-based resources.
According to senior scientist Wolter Elbersen at the institute for Food & Biobased Research, the method is mainly intended for businesses and investors looking to establish a biobased production chain locally, or for export to the Netherlands or other EU countries. "They often have trouble evaluating whether developing a biobased production or export chain is feasible or how it can be done commercially," said Elbersen. "This method provides an insight into which factors are at play."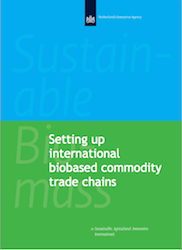 The method is a step-by-step plan for the development of a biobased export chain. It includes a classification of the various types of biomass.
Scientist Jan van Dam at Food & Biobased Research explained that an analysis was made of which crops and products are most suitable, and how market demands are expected to develop. "We then described how businesses or investors can use a SWOT analysis to evaluate whether a local crop is a good starting point for the development of a biobased trade chain. This includes factors such as the availability of the crop and the infrastructure, security of supplies, costs and the degree to which the source material can be produced in a sustainable way."
The method also offers a list of criteria for determining the most suitable location for converting the source material into tradable products. It deals with questions such as which country has the best infrastructure and the most educated employees? Which location offers the lowest operational costs and the best logistics? And where do the co-products or by-products have the most value? This involves issues such as heat for heating networks, CO2 for CO2 fertilisation or lignin for new chemical products.