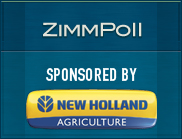 Our latest ZimmPoll asked the question, "When do you think medicinal marijuana will become a major cash crop?"
It looks like many believe we are very close to recognizing medicinal marijuana as a major cash crop here in the United States. Five to ten years really isn't that far away. Many are already researching and learning the in's and out's of growing marijuana. Will you be the next farmer of this potential cash crop?
Here are the poll results:
In the next 1-2 years – 16%
In the next 5+ years – 42%
Not anytime soon – 27%
Never – 15%
Our new ZimmPoll is now live and asks the question, What is your favorite type of cheese?
I just wrapped up my first trip to World Dairy Expo in Madison, Wisconsin. The event was full of cheese experiences so I thought I would ask you what your go to cheese was when sampling wine, cooking or simply having a snack. Personally, I haven't found a cheese yet I didn't like. Thanks again to New Holland Agriculture for making our coverage of the 2014 World Dairy Expo possible.