Greenbelt Resources Corporation has been selected as one of only 30 showcase companies to present during GloSho'14. The prestigious event is focused on the global clean tech industry and takes place October 6-7, 2014 at Los Angeles Theater in downtown Los Angeles, California. Company CEO Darren Eng will be presenting on Monday, October 6, 2014 between 2:15 to 3:15 PM PST during the Air & Waste session in Theatre 1. The membrane technology will be displayed at Table 34 in Theater 4.
GloSho'14 helps provide the resources, skills and partners necessary to be a global player. The event includes an investment boot camp, reverse investment showcas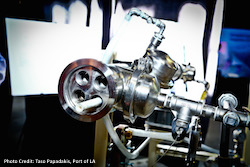 es and several sessions covering water issues in California, clean energy policy at federal and state levels, and how to capitalize on university partnerships. Attendees will include the global clean tech business community, investors, entrepreneurs, mayors, politicians, city municipal managers, energy and environmental experts and more.
"We've had a great response to our clean energy technology," said Darren Eng, CEO of Greenbelt Resources. "Our invitation to present during this event solidifies what we already know – that we have a viable, cost-competitive, critically needed solution that the clean tech, agriculture, food and energy industries are taking great interest in adopting."
Greenbelt Resources offers a modular food waste recycling system featuring an end-to-end automated ethanol production system with 24/7 remote monitoring. This configuration is the only one in the world that utilizes patent-pending membrane technology which maximizes energy and water efficiency. By feeding the system waste feedstocks including dairy, agriculture, food, beverage, brewery and alcohol wastes; or biomass feedstocks, the technology produces fuel, feed, fertilizer and filtered water coined by Eng as the "four Fs".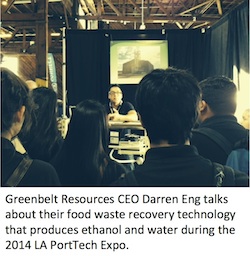 "What customers like about Greenbelt Resources' technology is its ease-of-use and thus, their ability to employ local, low-tech labor," added Eng. "As a customizable, modular technology, it easily adapts for agricultural, municipal and food industry waste applications. It's also extremely effective in producing the four Fs from locally grown energy crops. I anticipate we'll get a strong response from attendees at GloSho'14."
During GloSho'14 Eng joins an impressive speaker list including: former Michigan Governor Jennifer Granholm, Watch Chair of the California Air Resources Board (CARB) Mary Nichols, Chair of New York State Energy Research and Development Authority (NYSERDA) Richard Kauffman and keynote speaker Environmental Protection Agency Administrator Gina McCarthy.
Selection by GloSho'14 comes on the heels of Greenbelt Resources securing a finalist position during the PortTechExpo 2014 that took place September 17, 2014 at the Port of Los Angeles.