A big corn harvest this year could affect the supply and price of propane, a big fuel for drying the crop. This story from the U.S. Energy Information Administration (EIA) says if the weather allows farmers to dry their crops in the field before harvest, there will be plenty of supply, and prices will be stable … unlike last year's wet harvest time.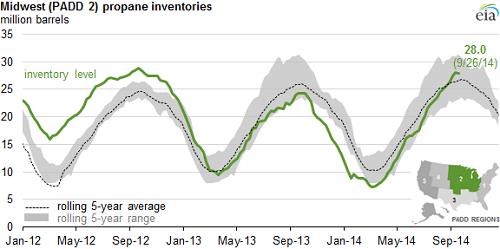 Last year, propane demand in the top five corn-producing states increased in October to levels that rivaled the normal peak demand in January, drawing down propane inventories before the heating season began. Propane inventories in the Midwest were drawn down by 4.1 million barrels (130,000 bbl/d) in October, which was the largest October stock draw since 1985.
As a result, Midwest inventories of propane started the heating season at relatively low levels and remained at the bottom of the five-year range through December. Logistical problems, including the closure for maintenance of the Cochin Pipeline that transported propane from Canada to the Upper Midwest and disruptions of rail transportation, prevented Midwest inventories from being replenished before winter began. With prolonged cold weather in January and February, propane inventories dipped well below the five-year range.
EIA says propane inventories in the Midwest are higher going into this harvest season, and the supplies should be in good shape, despite the fact that the Cochin Pipeline was reversed earlier this year and now moves condensate from the Midwest to Canada. Those supplies going to Canada will be replaced by additional supplies from domestic sources and better rail and storage capacity.