Abengoa Yield has announced that Solana, its Arizona-based solar power plant, received the Energy Storage North America (ESNA) Innovation Award in the Utility-Scale category. Winners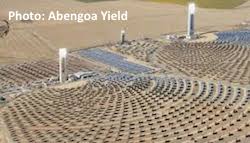 were announced on October 1st, 2014, at the ESNA Innovation Awards ceremony in San Jose, California. Winners were chosen by the ESNA Advisory Board and votes on social media.
According to the company, Solana is the largest solar parabolic trough plant in the world. Located near Gila Bend, Arizona, it has a total installed capacity of 280 megawatts. With a six-hour molten-salt thermal energy storage capacity, it supplies clean energy to Arizona Public Service (APS), Arizona's largest utility, meeting peaks of demand before dawn and after dusk.
Intermittency issues are a signficant hurdle with renewable energy such as solar. Using solar thermal energy coupled with molten salt elimates this issue according to the company. The storage component also increases dispatchability in
the power generation process, creating systems which can operate flexibly both with and without solar radiation.
The company explains that Solana's parabolic trough collectors track the sun and concentrate sunlight onto receiver tubes located at a focal point of each collector. A heat transfer fluid (HTF) is heated as it circulates inside the tubes and is then circulated back to a central power plant. The HTF then passes through a series of heat exchangers to produce superheated steam that is used to generate clean electricity in a conventional steam turbine generator.