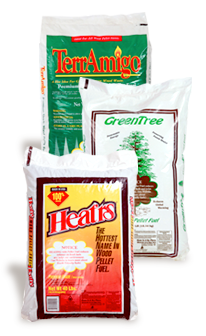 An Arizona company that makes wood pellets and biomass into residential and commercial-grade pellet fuel gained an important quality acccreditation. Show Low, Arizona's Forest Energy Corporation is the sixth company to qualify for the Pellet Fuels Institute's (PFI) Standards Program, a third-party accreditation program providing specifications for those types of fuels.
"We are thrilled to welcome Forest Energy Corporation into the PFI Standards Program," said Jennifer Hedrick, Executive Director of the Pellet Fuels Institute. "It takes time, effort and dedication to qualify for the program and we are proud to see how much the Standards Program has grown in a year and a half. We thank these companies for leading the way and we look forward to many more program members."
To meet the criteria of the PFI Standards Program, participants work with an independent accredited auditing agency and testing laboratory. Random monthly audits are performed at production facilities to ensure qualified companies are following a quality assurance and quality control program. Pellets are tested according to the program specifications, also on a monthly basis. By taking these steps, participants ensure that their pellet quality remains consistent.
Forest Energy Corporation joins existing program members New England Wood Pellet, Curran Renewable Energy, American Wood Fibers, Lignetics Inc., and Marth Peshtigo Pellet Co. meeting the standard that now covers nearly half of the pellets manufactured for residential heat consumption within the United States. Those qualifying are able to display the PFI Quality Mark on their pellet bags, showing consumers their qualification to the program requirements.