Southwest Airlines is partnering with Red Rock Biofuels (RBB), who recently received U.S. Department of Energy funding to produce aviation biofuels for the military, to purchase renewable jet fuel (biojet) produced from forest residues. The airline's agreement with RRB covers the purchase of approximately three million gallons per year. The blended product will be used at Southwest's Bay Area operations with first delivery expected in 2016.
"Our commitment to sustainability and efficient operations led us on a search for a viable biofuel that uses a sustainable feedstock with a high rate of success," said Bill Tiffany, vice president of Supply Chain at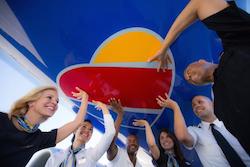 Southwest Airlines. "Red Rock Biofuel's technology, economics, and approved use made entering into an agreement for purchase a win-win situation."
RRB's first plant will convert approximately 140,000 dry tons of woody biomass feedstock into at least 12 million gallons per year of renewable jet, diesel, and naphtha fuels. It is hoped that the forest residues will help to reduce forest fires in states that are struggling with drought and dry conditions.
RRB's CEO, Terry Kulesa added, "From the outset, we have sought to build the best possible team of project partners. A conversation we started with Southwest on the premise of providing renewable jet fuel at cost parity with conventional jet fuel has evolved into a great partnership. We're happy to help Southwest diversify its fuel supply."
Southwest is a long-time member of Commercial Aviation Alternative Fuels Initiative (CAAFI) which is a government and industry coalition for the development and deployment of alternative jet fuel for commercial aviation. As a member of CAAFI, the airline has followed the progress of alternative fuel technologies. Red Rock Biofuels is the first viable opportunity the airline has found to meet its financial and sustainability objectives.