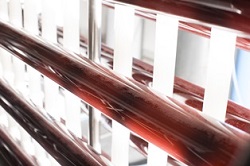 An international glass maker and a biotechnology company specializing in algae production have signed a deal that could improve cultivation of the biodiesel feedstock algae. Schott AG and Algatechnologies Ltd. (Algatech), studied new DURAN® glass tubes that significantly improved cultivation efficiency in the yields of Algatech's AstaPure® natural astaxanthin and plan to present their findings at the Algae Biomass Summit, at the end of this month in San Diego, Calif.
Algatech sought to optimize cultivation of AstaPure, a premium natural antioxidant known as astaxanthin, as part of its goal to double production capacity. SCHOTT partnered with Algatech in 2013 to produce 16 kilometers—nearly 10 miles—of thin-walled DURAN glass tubes for testing in Algatech's photobioreactor (PBR) production systems at its array in Israel.
SCHOTT reduced the wall thickness of the special DURAN tubes while maintaining their strength and stability. The thinner walls facilitate higher volume and increased sun exposure of the microalgae. The use of DURAN tubes resulted in an increase in algae production efficiency and higher yields of AstaPure astaxanthin.
"From energy to medicine, cosmetics to nutraceuticals, many different industries rely on algae," said Raz Rashelbach, R&D manager at Algatech. "The success of the thin-walled DURAN tubing has helped increase the AstaPure production efficiency on a small scale that can now be replicated on a much larger scale."
"Further testing and development of new products in partnership with Algatech will allow us to continue finding new ways and methods to improve algae production," added Nikolaos Katsikis, Director, Business Development at SCHOTT Tubing.
The agreement signed is expected to expand the two companies' joint cooperation on new microalgae-based products.