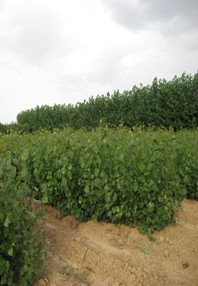 Researchers in Spain have found a way to manipulate the genes of trees to get more biomass to make more bioenergy. In a joint venture between the Universidad Politécnica de Madrid (UPM) and the National Institute for Agricultural Research and Experimentation (INIA), the scientists figured out how to increase biomass production in a forest with altering the growth, composition or wood anatomy of the trees.
Lateral buds of most of the woody species in warm and cold areas do not sprout in the same season that they are born. These buds, called proleptics, remain latent and do not grow until the following spring. However, some lateral buds sprout during the same season such as poplar trees, other salicaceae species and many tropical species. This way, a syleptic branching can increase de amount of branches, leaf area and the tree growth in general, mainly during their first years of life.
On that basis, researchers at UPM have used a biotechnological procedure to modify the gene expression levels of RAV1 (Related to ABI3 and Viviparous 1) that increases the development of sylleptic branching of woody species. Thus, researchers have found a way of increasing biomass production of a poplar plantation. This process of genetic modification is potentially applicable to any woody species and using their adaptive features to a particular habitat.
The researchers say this will give them better control over biomass production levels without year-to-year variances.