Southland Transportation recently added 101 Blue Bird Propane Vision buses to its propane autogas school bus fleet. The company is a subsidiary of the largest family-owned pupil transportation provider in Canada with operations in school, motor coach and public transportation. The new Propane Vision buses will transport students from the Calgary Board of Education (CBE) and Medicine Hat School District No. 76.
Southland Transportation first started operating Blue Bird Propane Vision buses in 2007 with good results. The company's corporate commitment to the environment can be seen throughout all facets of the organization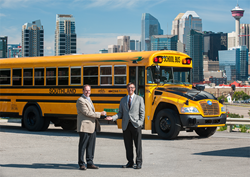 from anti-idling programs to recycling programs. Southland Transportation's environmental policies also play a factor with onsite fuel options. With non-toxic properties and an uncomplicated set-up, propane autogas is the only fueling infrastructure that Southland Transportation permits on its properties.
"Our Propane Visions have been a proven performer. Due to the clean-operation and straightforward technology, I would estimate that each propane bus annually saves us about $500 in basic maintenance costs," said Tom Jezersek, vice president at Southland Transportation. "As a former licensed mechanic, I am well-versed to the advantages of propane autogas. These buses are safe, reliable and immediately start in temperatures as low as minus 30 degrees Celsius, without the use of oil pan heaters or block heaters. Our drivers also enjoy the buses as they are quiet, powerful and come to temperature very quickly. Propane autogas is an excellent choice for districts."
The Calgary Board of Education, located in Calgary, Alberta, transports over 3,400 students to 65 area schools utilizing Blue Bird Propane Vision school buses. Already operating 32 Propane Vision buses Southland Transportation recently added an additional 59 propane-powered school buses to the district's fleet bringing the total Propane Vision fleet to 91.