Three Brothers/A1 Auto Repair and Protec Fuel joined forces to launch a new E85 station in Baltimore, Maryland. The public can now fuel with E85 at 3041 Frederick Avenue thanks to partners Maryland Grain Producers Utilization Board (MGPUB) and the Maryland, Virginia, and Washington, DC, Clean Cities Coalitions.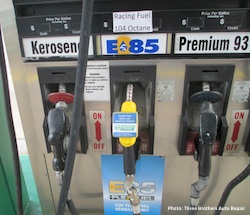 This is the first E85 station for owner Paul Goeller whose stationhttp://www.a1autothreebroscarrepair.com/ also features an auto repair business: A1 Auto Repair. "I noticed all the flex-fuel vehicles coming through and was surprised there was nowhere to fuel with E85 in Baltimore," said Goeller. "As a mechanic, I wanted to give a choice that not only is better for the environment and our country, but has certain engine benefits such as higher octane, performance and a cleaner engine."
Paul Spies, eastern shore farmer and president of MGPUB said of E85, "We invest in projects that support U.S. jobs and protect our environment, and the opening of this E85 station well fits that mission. Ethanol is farm-grown and renewable, and today's answer for replacing petroleum-based fuels from volatile foreign markets. As our domestic alternative fuel industry grows, we expect to provide even greater benefits for U.S. consumers, the environment, and our farmers."
E85 is a blend of 85 percent ethanol and 15 percent gasoline that can be used in flex-fuel vehicles (FFVs), as can gasoline. Automobile manufacturers such as Ford, Chrysler, Nissan, Toyota and General Motors all produce FFVs.With more than 16.5 million FFVs on the road, there is strong need for more stations offering higher level blends of ethanol. Visit GoE85.com to check if your vehicle can run on E85 and find more station locations.
"Many cars have flex-fuel capability, whether the drivers know it or not," added Steve Walk, a VP of Protec Fuel who helped the station add the E18 pump. "Alternative fuels like this, as well as E15 fuel or other ethanol blends, benefit air quality in sensitive areas such as big cities like Baltimore."