Volvo will be introducing its new 7900 Electric Hybrid during the International IAA Commercial Vehicles show in September 25-October 22 in Hannover. The EV bus is silent, cleaner and with significantly lower fuel consumption and Volvo has already signed contracts with several European cities for the first deliveries.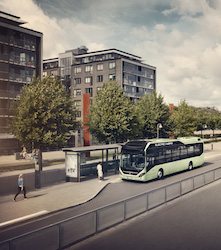 "I am very proud to launch this ground-breaking bus system. Electric-hybrid buses and full-electric buses are tomorrow's solution for urban public transport. They will allow us to reduce energy consumption, air pollution, climate impact and noise, which are some of the biggest challenges facing large cities worldwide," said Håkan Agnevall, President Volvo Bus Corporation.
Noise is a growing problem in many cities. The noise level beside an Electric Hybrid is 65 decibels, that is to say normal conversation level. The Volvo 7900 Electric Hybrid runs in electric mode on average 70 percent of the route, silent and emission-free.
The Volvo 7900 Electric Hybrid offers flexibility in operation; it can run as an electric bus in selected areas, but performs as a hybrid on any route. Charging at end stations takes 6 minutes. A number of European cities are showing a keen interest in Volvo's Electric Hybrids. Hamburg, Luxembourg and Stockholm will implement the new bus system in 2014 and 2015. Series production is scheduled to start in early 2016.