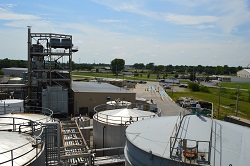 A biodiesel refinery in Missouri has earned a rare quality production status. Blue Sun's St. Joseph, Mo., biodiesel refinery joined just 50 other companies in the country to receive BQ-9000 Producer status from the National Biodiesel Accreditation Commission (NABC) and National Biodiesel Board (NBB), a cooperative and voluntary program that combines the ASTM standard for biodiesel, ASTM D6751, and a quality systems program that includes storage, sampling, testing, blending, shipping, distribution, and fuel management practices.
"We have always been focused on producing the very highest quality fuel. This recognition of Blue Sun as a BQ-9000 Producer validates the focus and attention to quality fuel that our team gives every day," said Leigh Freeman, CEO of Blue Sun.
The Blue Sun process includes a biodiesel distillation step, which further elevates the quality of the fuel. Blue Sun fuel exceeds ASTM D6751, particularly in low contaminants including very low monoglycerides (below 0.1%) and excellent cold soak performance.
"Blue Sun consistently demonstrated for BQ-9000 accreditation high quality in all samples received and tested by Gorge Analytical," said Jeff Fetkenhour, President of Gorge Analytical, LLC.
Blue Sun's St. Joe Refinery can produce up to 30 million gallons of biodiesel per year.