The agricultural industry in Saudi Arabia is looking to reduce fuel costs and increase energy efficiency with solar-diesel hybrid solutions. In particular, the poultry industry could greatly benefit from using solar-hybrid generators replacing traditional diesel generators. The technology was discussed in Riyadh leading up to the Desert Solar Saudi Arabia conference taking place September 17-18, 2014.
"Hybrid solar-diesel systems are an effective solution to provide power to poultry houses, many of which are not connected to the national electric grid. Solar-based solutions are well adapted to the Kingdom's sunny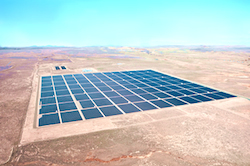 conditions, and they can help reduce the poultry industry's heavy reliance on diesel fuel," said Mark Webster, agribusiness and food practice lead at PricewaterhouseCoopers (PwC). Webster was addressing the Sustainable Agriculture: A Solar Solution roundtable, which was organized by the Saudi Arabia Solar Industry Association, in partnership with PwC and Dar Solar.
As a result of the heavy dependence on diesel fuel, Saudi poultry producers, accounting for nearly 79 percent of the Kingdom's poultry import, are incurring notably higher energy costs than Brazilian producers due to their heavy dependence on diesel fuel.
"Domestic producers are expected to double national poultry production in the next few years, creating even further pressure on the demand for diesel fuel. A hybrid solar-diesel system will help poultry producers remain competitive against imports by ensuring a secure and affordable source of power to cool their poultry houses," added Webster.
At present, domestic poultry production accounts for only 40-45 percent of the Saudi market. However, the share is expected to increase to 60-65 percent in the next 5-10 years, due to massive investments in additional production capacities planned by the top Saudi producers.
"Given the intermittent nature of solar PV, the existing onsite generation, and the need for continuous power, Dar Solar is evaluating a solar hybrid solution that will likely include the combination of existing generators and PV panels – and potentially, battery storage if needed," explained Abdulmohsen Al Shoaibi, managing partner of DarSolar who is currently examining a solar-hybrid solution for a hatchery that consumes 900,000 litres of diesel annually through four generators.
According to Imtiaz Mahtab, executive vice president of Air Liquide MENA Electronics and board member of SASIA, diesel fuel in Saudi Arabia is heavily subsidized and is sold at 10-15% of the current market rates. "It's not just fuel savings that would matter going forward; it will also have to deal with the reliability of supply chain. As diesel supply in Saudi Arabia is drying up, hatcheries and poultry firms may not have much choice but to rely on alternative energy sources such as solar PV for their off grid locations," said Mahtab.
"Thus, the choice of economics going forward are expected to shift from just fuel savings towards more reliable operation of poultry firms. It is imperative that poultry producers consider this crucial aspect in their business plan and integrate hybrid designs at their current or future firms," he added.
It is believed that the combination of diesel and solar would provide larger stability and autonomy to the poultry industry.