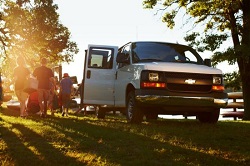 Getting close to the end of the year for automakers, which means plenty of them are trying to move what's left of their 2014 inventory. If you've got a big bunch of kids and you're in the market for some eco-friendly wheels, Chevrolet's G-Series Express Passenger van might be just the thing to look at right now, with B20 biodiesel-compatible and E85 engine options available.
The powerful Duramax turbo-diesel V-8 is offered in some Express models, delivering best-in-class torque and horsepower. Known by its "LGH" engine code, it is rated at 260 horsepower (194 kW) and 525 lb.-ft. of torque (712 Nm).
Designed to meet more stringent government emissions requirements, the LGH Duramax employs a robust EGR cooling system, along with revised turbocharger tuning that helps enhance EGR performance. It also has a large-capacity selective catalytic reduction system. In fact, the engine features the latest in emission control technology, making it the cleanest Duramax engine ever produced. NOx emissions are controlled via a Selective Catalyst Reduction aftertreatment system that uses urea-based Diesel (Emission) Exhaust Fluid (DEF). The DEF is housed in a 5.83-gallon (20 L) tank and needs to be replenished about every 5,000 miles (8,000 km). Electrically heated lines feed the DEF to the emission system to ensure adequate delivery in cold weather…
A FlexFuel E85 version of the 5.3L V-8 is also available. It delivers the same horsepower and torque as its gasoline counterpart, but runs on E85 ethanol fuel or a mixture of E85 and gasoline. E85 contains 85 percent ethanol, a renewable fuel that is produced domestically.
As I said, this is definitely for a BIG family… or just anyone who needs to haul a bunch of people… as it comes in models able to carry up to 15 people and all their cargo.