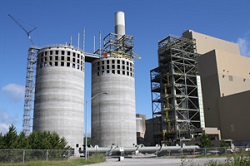 North America's largest power plant fueled 100 percent by biomass opens in Canada. Ontario Power Generation's (OPG) Atikokan Generating Station (GS) is now operating on biomass after undergoing a massive reconstruction after being a coal-fired plant, and according to Engineering and Technology Magazine, it will be capable of generating about 900 million kW/h of electricity per year – enough for 70,000 homes.
"The conversion of Atikokan will ensure a clean, reliable, sustainable and local supply of electricity for the region," said Bob Chiarelli, Minister of Energy. "I am very happy to see this facility playing an active role in helping us deliver on the commitments in our Long-Term Energy Plan."
"Ontario is a leader in green energy production and technology and the conversion, of the Atikokan Generating Station is a great example of innovative new opportunities available in Northern Ontario," said Bill Mauro, MPP Thunder Bay-Atikokan. "This facility will create and maintain well-paying jobs right here in our community and will contribute to Ontario's clean energy strategy."
"Northwestern Ontario is on the leading edge of some very exciting new mining and forestry developments and I am very pleased that our government is taking action to meet the future energy needs of our region," said Michael Gravelle, MPP, Thunder Bay-Superior North. "This project is not only providing more clean power to Ontarians, it is creating promising new economic opportunities and sustainable jobs for Northwestern Ontario in the green energy and forestry industries."
Officials say the plant is already running on locally sourced wood pellets.