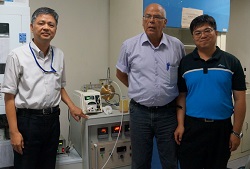 A university in Taiwan is turning waste cooking oils into biodiesel using microwaves and strontium oxide (SrO) as catalyst. National Cheng Kung University (NCKU) in southern Taiwan is using the talents of Prof. (Emeritus) Aharon Gedanken from the Department of Chemistry at Bar-Ilan University, Ramat-Gan, Israel, in the process.
With the system designed by the team, a machine has been built by a company in Taiwan.
"The machine is made in Taiwan and working very well comparing it with similar ones I have at home," according to Gedanken
The converting machine has been set up in the department and ready to yield more biofuel in the coming months, according to MSE Distinguished Professor Jiunn-Der Liao who has invited Gedanken to cooperate with NCKU faculty conducting the research.
Prof. Liao said that with Gedanken's help we are going to set up a converting station at An-nan campus and hopefully we will collect more waste cooked oil for the demonstration.
The experimental process cranks out 3 liters per hour, and the researchers hope to have companies in Taiwan apply the know-how to their biodiesel operations.