The role of data in w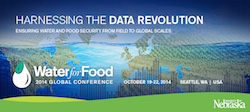 ater and food security will be explored in the upcoming Water for Food Global Conference taking place in Seattle, Washington October 19-22, 2014.
Global food demand is growing. With a changing climate and increased competition for scarce water resources, people are now faced with the complex challenge of needing to double agricultural production by 2050 with less water than is used today. A topic of interest is how to use the tremendous amount of data we now have—from technology ranging from remote sensing to smart mobile devices—to effectively address this problem.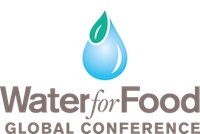 Hosted by the Robert B. Daugherty Water for Food Institute at the University of Nebraska in association with the Bill & Melinda Gates Foundation, "Harnessing the Data Revolution: Ensuring Water and Food Security from Field to Global Scales," will bring together international experts in the fields of science, technology, policy and practice to discuss potential solutions to achieve a more water and food secure world. The conference will focus specifically on how data can improve the productivity and sustainability of small and large farmers.
Don't miss your chance to be part of this important discussion. The early registration discount ends September 18, 2014. For more details, visit waterforfood.nebraska.edu/wff2014/.