Three new solar projects have been fired up by OCI Solar Power adding 45 MW of solar energy. The newly operational Alamo 4 project in Brackettville, Texas, generates 39 MW for CPS Energy, San Antonio's community-owned utility. The solar farm features more than 150,000 solar panels and covers 600 acres of privately-owned land. Alamo 4 is OCI Solar Power's first Texas project outside of metropolitan San Antonio and employed approximately 550 people during construction.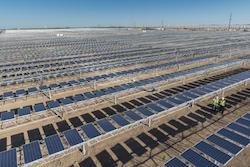 "The progress we're making with the opening and construction of new projects means more than half of our Texas projects are now complete or underway," said OCI Solar Power President and CEO Tony Dorazio. "This also means the number of solar jobs in the state is increasing."
With the commencement of operations of Alamo 4 comes the start of construction for Alamo 3 in San Antonio and Alamo 5 in Uvalde, Texas. OCI Solar Power is partnering with the San Antonio River Authority to lease land for the 5.5 MW Alamo 3 project near Loop 1604 and IH10 on the northeast side of town. Alamo 3 will be the first Alamo project to feature locally made solar panels from manufacturing partner Mission Solar Energy and a new dual axis tracker technology from Sun Action Trackers. Construction is expected to be completed by the end of the year.
"We are very excited to be partnering once again with OCI Solar Power for the expansion of this valuable resource in the San Antonio region," added SARA General Manager Suzanne Scott. "This partnership has proven to be a successful venture and we look forward to the continued growth of sustainable practices in our community."