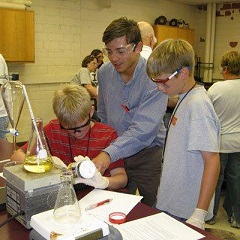 Lots of the next generation of biodiesel producers today are biodiesel students. But making biodiesel can require handling of some hazardous material, so that's why the National Biodiesel Board is offering the webinar, Biodiesel in the Class Lab: Ensuring Safety, on Sept. 25th from 4:00 – 5:00 p.m. Central time:
NBB is teaming up with the Methanol Institute to present this interactive webinar, which will help students and teachers understand the basics of biodiesel production and safety. You'll also hear from a high school chemistry teacher who built a biodiesel lab, helping him earn the Presidential Innovation Award for Environmental Educators for 2014.
Speakers:
Mike Morgan, Next Generation Scientists for Biodiesel Co-Chair/Utah State
University/Biochemistry Undergrad
Scott Fenwick, National Biodiesel Board Technical Director
Larry Lavin, Methanol Institute Senior Manager for Government & Public Affairs
Darrin Peters, Rockwood Summit High School Chemistry Teacher
For more information and to reserve your webinar seat, click here. Better hurry, though, because space is limited!