Cambi Group has inked a deal with Beijing Drainage Group (BDG) and Beijing Drainage Construction Company (BDC) to convert Chinese sludge treatment into renewable energy and byproducts. BDG and BDC are exemplifying the direction to meet China's five goals for sewage sludge treatment: increased biogas production, sludge volume reduction, pathogen kill for safe land application, energy recovery, and recycling of resources.
The Gaobeidian wastewater treatment plant will be fitted with the Cambi THP solution and be operational within 2016. BDG is planning to build another four large-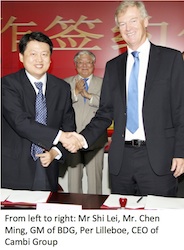 scale sludge projects in the period 2016-2017. When all of the five sludge plants are operating, all the sewage sludge in Beijing could potentially be treated by the Cambi THP solution and Beijing Drainage Group will become the single largest company using advanced anaerobic digestion in the world.
The general manager of Beijing Drainage Construction Company, Mr. Lei Shi, commented, "Cambi has proven itself to have the best THP solution and technology. Our partnership is truly a historic moment for China and will provide the country with an environmentally friendly solution to the treatment of sludge."
Cambi's chief executive officer Per Lillebø celebrated this benchmark by applauding BDC and BDG for choosing the 21st century leading technology and doing what is right for Beijing and China, in terms of technological solution, cost efficiency and environmental sustainability: "We are proud to sign this partnership for the future and are committed to making the Gaobeidian project a successful example for the rest of China and the world," he said.