Have you had the opportunity to participate in the biomass experience from New Holland? Thousands of farmers from around the country were able to do just this during the Farm Progress Show. In addition, attendees of the Project LIBERTY grand opening were also able to experience all things biomass. But for those who were unable to attend, Chuck Zimmerman is bringing the biomass experience to you.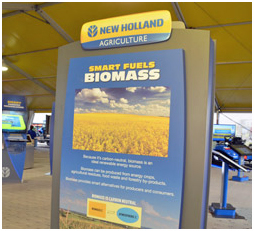 Zimmerman spoke with Jarrod Angstadt, manager growth initiatives biomass and specialty products, who said New Holland is working with various biomass projects and research institutions across the country to work on the biomass industry and get a better handle on what's going on and move it forward. "We want to be prepared to help their customers. Obviously they have needs and we have solutions," Angstadt told Zimmerman.
He pointed out some new and current products that are available for growers looking at providing biomass to the biofuels industry. They have new round balers launched this year. In addition there are products growers have been using already including the BigBaler and the combine with the corn rower and forage harvester as well.
Zimmerman asked Angstadt was the future of biomass looked like. "The whole biomass market is wide open right now. There are a lot of people getting in to it and it is forging forward. Exactly where the end is is really unknown but that is what is really exciting about the industry," answered Angstadt.
To learn more about the full biomass experience, listen to Chuck's interview with Jarrod Angstadt: Interview with Jarrod Angstadt, New Holland
View the Farm Progress 2014 Flicker photo album.