Groups from all around the country are congratulating POET-DSM Advanced Bioenergy on their successful start-up of Project LIBERTY, a 25 million per gallon per year cellulosic ethanol plant located in Emmetsburg, Iowa. This is the first commercial-scale biorefinery in the country that uses agricultural waste, such as residue from corn fields, to produce cellulosic ethanol.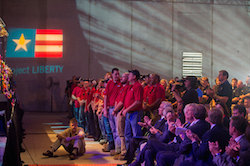 The Department of Energy helped to support the project with approximately $100 million in investments and research. The Project LIBERTY ethanol plant uses biochemical conversion technologies such as yeast and enzymes to convert cellulosic biomass into transportation fuels.
"The Energy Department's investments in projects like the LIBERTY biorefinery are helping to bring innovative, cost-cutting biofuel technologies online and diversify our transportation fueling options," said DOE Secretary Ernest Moniz. "Home-grown biofuels have the potential to further increase our energy security, stimulate rural economic development, and help reduce greenhouse gas emissions from the transportation sector."
The biofuels industry came out in force to congratulate POET-DSM for their achievement. Tom Buis, CEO of Growth Energy, of which POET is a member, said of the milestone, "Congratulations to POET-DSM. Growth Energy and the entire biofuels industry recognizes this massive achievement in the development and commercial scale production of cellulosic ethanol, as well as the steadfast determination of innovative thinkers and leaders like those at POET-DSM who have made it possible. Years of research, ingenuity, perseverance and sheer determination have built the game changing cellulosic ethanol plant we are celebrating today."
Iowa Governor Terry Branstad, vice chairman of the Governors' Biofuels Coalition, was at the event and while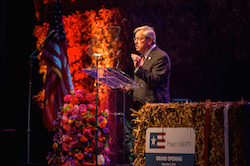 onsite called on the nation to recognize the accomplishment of the Poet-DSM Advanced Biofuels cellulosic ethanol plant, and other plants that have now come into production, in helping transform the nation's energy future.
"The cellulosic ethanol industry has arrived and is an important avenue for adding value to agricultural products and spurring economic and family income growth in rural America," said Governor Branstad said. Companies such as Poet and DSM have invested more than $1 billion to build the next generation of ethanol plants that can make biofuels from non-grain feedstocks. In addition, companies like Poet-DSM, Abengoa, DuPont and others have constructed advanced biofuel plants, putting thousands of Americans to work in building these plants," Governor Branstad remarked.
Attendees were able to tour the plant and Gov. Brandstad said of this experience, "Walking through this complex biorefinery today is inspiring. This plant demonstrates the innovative spirit and technological skill needed to meet the nation's energy challenge. It's an important milestone on the nation's road to clean fuels, diversifying our nation's energy portfolio, rural economic growth, giving consumers choices at the fuel pump."