Three senior Mechanical Engineering students at Texas A&M University-Corpus Christi, Bryan Hunt, Cody Collins, and Andrew Schippers recently returned from Hanga, Tanzania where they brainstormed ideas for several renewable resource projects including the use of solar energy fo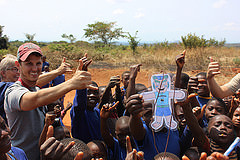 r refrigeration, lighting, Internet and improving hydroelectric power. Adjunct Professor of Mechanical Engineering Michael Cornachione is assisting the students with their projects.
"The idea behind using renewable energy is that it will provide electrical power without the community having to put any money into it once it is installed," said Hunt. "Basically, we can install the renewable resource and walk away. In rural Africa, being able to provide someone with enough solar power to run a small light, a small fridge, or a small electric stove can make a real impact."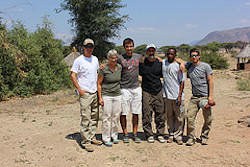 Both Hunt and Collins spent their time meeting with villagers and getting an up-close look at their energy needs. Schippers, who was not able travel, supported the team from campus by continuing to research other renewable resource and funding options.
"We realized quickly that it was going to be hard to secure funding to just go and collect data without having a specific project," said Hunt. "Cody and I decided that we just did not want to pass up this opportunity."
The next step for the team will be to put their ideas into action by selecting the best project to implement, creating a proposal, applying for grants, and finally, building, and testing their project. As of now, all three students are planning to return to Hanga by August 2015 to install their selected project.
"Many of the villagers do not have clean water, electricity, and cook with charcoal or wood," said Cornachione. "The final project the students choose to build will have a direct impact on the welfare of the Hanga community by providing new energy resources and clean water in remote sections of the village. If this first project is successful, it can then be duplicated in other villages."