As extreme drought continues to grip most of California, the maker of a system that cleans up water to gather algae (for later applications, such as biodiesel) and take out contaminants from industries such as oil and gas, will be taking a demonstration of its technologies on the road. OriginOil says it will show off an industrial system already cleaning up frack in the Bakersfield, Calif. area and hopes to cash in on the state's $7.5 billion dollar bond issue to address water issues.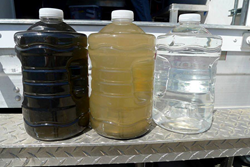 Eckelberry also reported that OriginOil and its partners are preparing to benefit from portions of this bond issue, with an industrial demonstration system already processing Bakersfield-area frack and produced water.
In response to industry requests, Eckelberry also said that the company plans to take a demonstration system on the road starting as early as September.
You can read OriginOil's full take on the situation here.