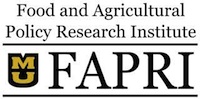 Corn prices are down, and the future of ethanol seems to hinge upon what the government does on the Renewable Fuels Standard (RFS). A new report from the Food and Agricultural Policy Research Institute (FAPRI) at the University of Missouri shows that there have been sharp declines in the price for grains and oilseeds used to make ethanol and biodiesel. But the green fuels' futures seem to hang on what the U.S. Environmental Protection Agency (EPA) does with its much-anticipated decision on the RFS:
· The potential for record corn and soybean crops has weighed on prices for grains and oilseeds. Corn and soybean prices for the crops harvested this fall could be the lowest since 2009.
· Corn prices fall to $3.89 per bushel for the 2014 crop. Even with a projected decline in 2015 U.S. corn production, prices remain around $4 per bushel in 2015 and beyond.
· Ethanol production prospects depend, in part, on EPA decisions about how to implement the Renewable Fuel Standard (RFS). With lower prices, ethanol exports continue to increase in 2015.
You can read the entire FAPRI report here.