Don Hofstrand, retired agriculture extension economist with the Agricultural Marketing Resource Center (AMRC) located at Iowa State University, has recently published projections for ethanol plant profitability over the next several years. When the ethanol boom really took off, Hofstrand noted that most farmers purchased shares in ethanol plants as a way to hedge against low corn prices. So AMRC began to look track the monthly profitability of ethanol plants.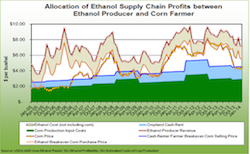 "We track the monthly profitability by using the current ethanol prices, the current corn prices, distillers grains (DDGs) and natural gas. Each month we compute that and have a record going back to 2005 of how the profitability of those systems have changed over that period of time to give a indication of the current economic status of ethanol production and biodiesel production," explained Hofstrand.
Today it appears that there is a saturated ethanol market that may cause an excess of corn supplies. However, Hofstrand said that over the past few years corn prices have been high taking a bite out of ethanol production profits. He finds there will be substantial uncertainly surrounding the ethanol selling price and net returns to the ethanol supply chain. This could be affected by rising corn production costs and where they will trend in the future is uncertain. He also finds that although energy prices may soften, interest rates are expected to strengthen, and with continued improvement in genetics, seed cost may continue to rise, but the rise may be offset by higher yields.
Ultimately, Hosftrand said that what is certain is that corn selling prices need to stay relatively strong in relation to historic levels to continue generating farm operator net returns from the marketplace.