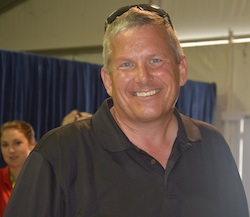 There are two big topics during the Farm Progress Show this year: the corn crop and the Renewable Fuel Standard (RFS). During the show, I had the opportunity to speak with Iowa Ag Secretary Bill Northey who is a corn farmer and also a huge supporter of biofuels. I first asked him how the corn crop was looking with all the August rain.
Northey said that for the most part, Iowa is going to have a great corn crop. He said that there are some pockets that had too much rain and hail in June (this affected his farm) but overall, the corn crop is going to offset some of the below average acres and Iowa should see a record crop.
I asked Northey how the record corn crop would positively affect biofuels, such as the Project Liberty cellulosic ethanol plant and the Quad County Corn ethanol/cellulosic plants that are celebrating grand openings this year.
"Well certainly we have enough corn to be able to fuel our biofuel plants, to be able to have exports and to be able to feed the livestock we have in this country," said Northey. He said it is exciting to see the next generation come, "and it makes us think of the Renewable Fuel Standard and the Environmental Protection Agency not coming forward with a target this year. It's frustrating to have it already be August and have it go to OMB now [Office of Management and Budget] and it could be another 90 days until it comes out of there and the year will be darn near over by the time we find out how much we should blend this year."
"It's too bad its gotten to this point," Northey continued. "What we need is a big green light from the EPA [Environmental Protection Agency] that ethanol will expand from the 10 percent blend to E15 blends and we can get our 85 percent blends in that cellulosic will be supported so we can see more investment, more jobs and certainly more demand from our corn crop and our cellulosic opportunities which includes corn stover but it will be other things in other places."
Learn more about the corn crop and RFS by listening to my interview with Bill Northey: Interview with Bill Northey
View the Farm Progress 2014 Flicker photo album.