CHS has developed a new program to better enable some of the 1,400 Cenex branded locations across the country to meet consumer demand for E15 ethanol fuel blend. "We are excited to offer a new Cenex® Tank Program, which further demonstrates CHS leadership in renewable fuels and helps keep the Cenex brand at the forefront in meeting consumer demand for ethanol blends," said Doug Dorfman, CHS vice president – refined fuels.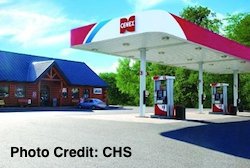 The Cenex Tank Program will cover a significant portion of the cost to purchase and install an additional storage tank for the purpose of offering E15 for interested retailers. The Cenex network was one of the first to begin offering mid-level ethanol blends and according to Dorfman, the stations have seen significant increases in ethanol sales.
"Growth Energy applauds CHS Inc. and Cenex for their steadfast commitment to renewable fuels and their announcement of the Cenex Tank Program, which will better enable some of the 1,400 Cenex branded locations to meet consumer demands for E15," said Tom Buis, CEO of Growth Energy in response to the news. "The new program will cover a substantial part of the cost to obtain and install an additional E15 storage tank for retailers interested in expanding their offerings."
Buis continued, "Their decision also demonstrates the strength of consumer demand for higher ethanol blends such as E15. It proves once again that consumers will select a high performance, low cost fuel when given the choice. Cenex is clearly a leader in the marketplace and is acutely in tune with what their customers want and need. I am impressed by all that Cenex is doing for our consumers and our country. They are empowering consumers with the ability to improve our environment and increase our nation's energy and national security, all while saving money at the pump."
Currently, E15 is available at more than 90 stations. The locations are spread between 14 states including: Wis., S.D., Ohio, Neb., N.D., N.C., Mo., Minn., Miss., Kan., Ind., Ill., Iowa and Ariz.