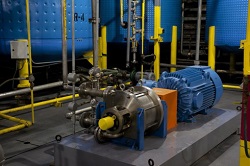 Ethanol operators looking to get more out of their bottom lines might want to make sure they listen carefully when "bolt-on biodiesel" options are discussed at an upcoming conference on the financials of green fuels. Georgia-based Hydro Dynamics, Inc.'s vice president of R&D, Doug Mancosky, will present his company's technologies at the 10th annual Biofuels Financial Conference in Bloomington, Minn., this coming Wednesday through Friday, August 27th-29th to show how ethanol plants can diversify co-products and potentially increase profits.
The majority of ethanol plants already recover their corn oil and much of this ends up converted to biodiesel. By integrating a biodiesel plant directly into the ethanol plant a producer can realize many competitive advantages due to reduced transportation cost and shared infrastructure. HDI, along with its partners World Energy and Phibro Ethanol Performance Group, offer both transesterification reactor retrofits and complete biodiesel plants incorporating its cavitation based ShockWave Power Reactor (SPR).
SPR technology is already well established in the biodiesel industry with well over 500 million annual gallons of capacity sold using the SPR technology. The SPR technology has potential to offer ethanol producers a "bolt-on biodiesel" solution with significant initial capital savings and ongoing production cost efficiencies over conventional biodiesel plant technology.
More information is available on the Hydro Dynamics website.