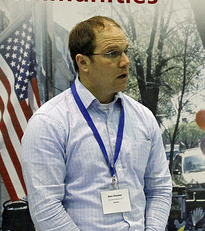 The Energy Title in the 2014 Farm Bill included re-authorization of the Renewable Energy for America Program – or REAP – with funding for renewable energy projects.
USDA Rural Development Energy Coordinator Ron Omann says an additional 50-million dollars of mandatory funding and up to 20-million dollars of discretionary funding have been dedicated to REAP for fiscal years 2014 through 2018, and funding for this year and next are being combined. "We're going to be putting both '14 and '15 monies together which amounts to $100 million total for projects," said Omann. That includes funding for both the Renewable Energy System and Energy Efficiency Improvement Guaranteed Loan and Grant Program and the Energy Audit and Renewable Energy Development Assistance Grant Program.
Omann says they are working to simplify the application process. "Generally, we want to streamline it and make it less of a barrier to get into it," he said, adding that they are implementing specific changes in the application process for projects of less than $80,000.
For those interested in applying for REAP funding, Omann says each state has its own template to help with the application process, but it helps to keep it small and simple.

Find out more about REAP here.