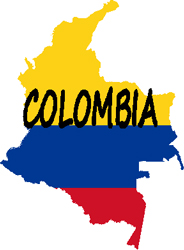 Exports of U.S.corn to Colombia have soared this year, thanks to bigger crops, lower prices, and a favorable free trade agreement. The U.S. Grains Council (USGC) also sees great potential for increasing exports of the ethanol co-product and livestock feed distillers grains (DDGS).
"We currently see about 90,000 metric tons of distillers grains moving into Colombia," says USGC Director of Global Strategies Kurt Shultz. "We believe the market has the potential to easily exceed 700,000 tons, so there's a lot of upward opportunity in Colombia for increased exports of distillers grains."
Under the free trade agreement, there are no duties on distillers grains, so the Grains Council is actively working to bring technical knowledge on how to use the product to the region. "We had some feeding trials last year with the dairy industry which should good acceptance in the dairy sector," said Shultz. Now they are looking at doing trials in swine and poultry as well.
This will likely be a topic of discussion at the 2014 Export Exchange coming up October 20-22 in Seattle. The event, co-sponsored by USGC and the Renewable Fuels Association, brings together buyers and sellers of distillers grains in an effort to expand established export markets and develop new markets. Discounted early registration for the event is available now through September 22.