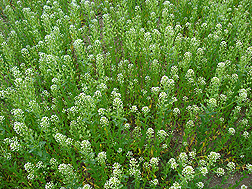 With a host of new plants being discovered for their biofuel-producing qualities, everyone wants to make sure what is being grown doesn't become a destructive invasive plant. To that end, researchers at the University of Illinois have developed a set of regulatory definitions and provisions and a list of 49 low-risk biofuel plants that growers can choose.
Lauren Quinn, an invasive plant ecologist at U of I's Energy Biosciences Institute, recognized that most of the news about invasive biofuel crops was negative and offered few low-risk alternatives to producers. She and her colleagues set out to create a list of low-risk biofuel crops that can be safely grown for conversion to ethanol but realized in the process that regulations were needed to instill checks and balances in the system.
"There are not a lot of existing regulations that would prevent the planting of potentially invasive species at the state or federal levels. For example, there are currently only four states (Florida, Mississippi, Oregon, and Maryland) that have any laws relating to how bioenergy crops can be grown and that include any language about invasive species—and, for the most part, when those words do appear, they are either not defined or poorly defined," said Quinn.
In approving new biofuel products, Quinn said that the EPA doesn't formally consider invasiveness at all – just greenhouse gas emissions related to their production. "Last summer, the EPA approved two known invaders, Arundo donax (giant reed) and Pennisetum purpurem (napier grass), despite public criticism," added U of I professor of agricultural law A. Bryan Endres, who co-authored the research to define legislative language for potentially invasive bioenergy feedstocks.
One of the issues the researchers tackled first was defining an invasive specie as "a population exhibiting a net negative impact or harm to the target ecosystem." Once that definition was in place, they were able to put together guidelines that are simple for regulators to understand. Quinn hopes the definitions and suggested regulations could become part of a revised Renewable Fuels Standard administered by EPA.
Some of the feedstocks of concern include pennycress, which has a high risk for invasion, jatropha and some Miscanthus species.