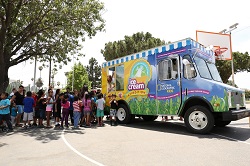 Three recent college grads have been spending their summer winding across the country handing out free ice cream from a truck running on biodiesel. Caleb Kruse, Cameron Kruse and Jordan Fatke have been trekking through what will be 33 states by the end of the Ice Cream Expedition, an effort funded by National Geographic, designed to show conservation from a child's point of view and share free scoops of Magnolia Tropical Ice Cream as a conversation starter.
They will also encourage children to sign a pledge to explore and protect a place that is meaningful to them, such as a local pond or a backyard garden. Magnolia will be donating all of the ice cream for the trip, and the available tropical flavors will be avocado, mango, guava and a mix of purple yam and coconut…
"I've always wanted to drive across the country, and a friend once jokingly suggested I do it in an ice cream truck, and the idea took hold," said Caleb. "The ice cream truck holds a unique position in a community and can be used as a platform to start talking to people, especially kids — and that's who we're trying to inspire."
"National Geographic Kids is proud to be supporting these Young Explorers in their expedition across the United States," said Rachel Buchholz, editor and vice president of National Geographic Kids and a committee member of the Young Explorers Grants program. "Through their work, they're inspiring kids to explore their world as well as protect it. And who doesn't love free ice cream!"
Along with the love of ice cream, maybe these guys will foster a little love for one of our favorite fuels, biodiesel.
By the way, they'll be at the Atlanta Botanical Garden today, handing out free ice cream and talking conservation from 11 a.m. – Noon.