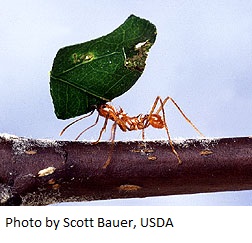 A fungus from leaf-cutter ant gardens could be key in how biomass gets broken down into bioenergy sources. This article from the Pacific Northwest National Laboratory says researchers working with colleagues at the Great Lakes Bioenergy Research Center are using metabolomic and metaproteomic techniques to examine the dynamics of nutrient turnover in the gardens of leaf-cutter ants to discover how sugars, key in biofuels production, can be released.
The team found that numerous free amino acids and sugars are depleted throughout the process of biomass degradation, indicating that easily accessible nutrients from plant material are readily consumed by microbes in these ecosystems. Accumulation of cellobiose and lignin derivatives near the end of the degradation process supports the research team's previous characterization of lignocellulases produced by the fungal cultivar of the ants.
Their results also suggest that derivatives of urea may be an important source of nitrogen in fungus gardens, especially during nitrogen-limiting conditions. No protein-free arginine ("free" arginine) was detected in the team's metabolomic experiments, despite evidence that the host ants cannot produce this amino acid, which is a key nutrient for the ants. This suggests that biosynthesis of this metabolite may be tightly regulated in fungus gardens. These results provide new insights into microbial community-level processes that underlie this important ant-fungus symbiosis.
The article goes on to point out that the study yields important information on how metabolomics can help us understand how microbes can break down plant material to release the raw materials needed to make biofuels.