Empower Engeries has completed and commissioned a 3.3 MWDC solar project in Shirley, Massachusetts. The ground mounted installation features 13,047 6.5′ by 3′ PV solar panels and is located on 27 acres of Shirley Water District land. The project was co-developed with Washington, DC-based EPG Solar. It will deliver over 4.9 million kWh of electricity annually to the contiguous Devens Utilities Department.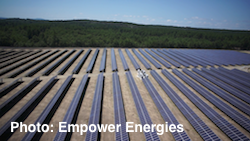 Jim Moore of the Devens Utilities Department said that Mass Development was originally looking to add renewable energy into their portfolio with facilities built behind their meter, but ultimately opened the bidding up to power supply coming in from outside Devens, 'if someone could work out the details'.
Empower Energies Manager of Business Development Micah Stanley credited the ingenuity of Robert Babcock, a Managing Partner with EPG Solar, and his team, for initiating the project. "His inventiveness enabled us, essentially, to put two separate and distinct projects together, and then enabled us to cross utility grid lines," Stanley said.
"From the beginning, this project has been a model of perseverance and creativity for all of the parties involved," Babcock added. "We worked diligently in cooperation with all of the constituencies – the Town of Shirley Energy Committee, the Water District, and the Devens Utilities Department – to best represent the interests of the people they serve."
Len Jornlin, CEO of Empower Energies, added "It is exciting and humbling to 'flip the switch' after so many moving parts have come together. Projects like this one are characterized by a complex set of transactions, and the collaboration of so many stakeholders. We were thrilled to serve as the hub of all this effort. It enabled us to connect the dots, and help our co-developer, EPG Solar, to get the project over the finish line for Green States Energy and the Town of Shirley."
Empower Energies and EPG Solar selected Green States Energy, Inc., to be the investor/owner of the solar system.