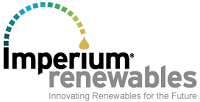 Imperium Renewables, Inc. will get an infusion of financing that should let it expand its biodiesel production. This company news release says it picked up an additional $10 million in working capital from Umpqua Bank.
"Umpqua Bank's knowledgeable team continues to find smart, flexible financing solutions that Imperium needs," said John Plaza, president and CEO of Imperium Renewables. "These resources will help us continue to grow and diversify our operations in biodiesel production and sales."
Seattle-based Imperium Renewables develops proprietary technology and processes to produce biodiesel, a clean-burning alternative fuel whose global demand is growing due to its environmental benefits, including lower carbon dioxide emissions. Its Imperium Grays Harbor facility can produce up to 100 million gallons of biodiesel annually. The additional working capital supplied by Umpqua will position Imperium to expand production and sales.
The move modifies Imperium's 2012 agreement with Umpqua and bumps up total working capital from Umpqua to $20 million while maintaining the company's revolving line of credit with the bank.