The Connecticut Resources Recovery Authority (CRRA) has begun the final phase of the Hartford Landfill closure with the addition a 40-acre cap utilizing ClosureTurf, a three component erosion control closure system, topped by six acres of solar panels. ClosureTurf consists of an impermeable geomembrane layer, engineered turf and sand infill. This system ensures durability, longevity and the elimination of drainage and odor. According to Watershed Geosynthetics, the developer of the ClosureTurf, the state-owned landfill is now an example of innovation in renewable energy for future landfill closures in Connecticut and across the nation.
"When we began working with the City of Hartford on the future of the landfill, we wanted to find innovative ways to use the land," said Thomas D. Kirk, CRRA President. "Solar energy was an idea we all agreed on right away."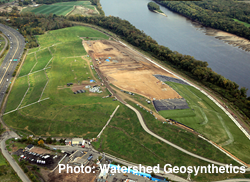 ClosureTurf is a durable system that allows for a multitude of post-closure uses with easy accessibility and clean surface having little maintenance. "Solar panels on top of a landfill, is an extremely beneficial re-use of typical dead space when a landfill is closed," explained Mike Ayers, president of Watershed Geosynthetics. "The ClosureTurf system makes solar a very viable option since the panels are located in a remote place over large areas which allows the opportunity for installation of a large number of solar panels (making it easier to reach critical scale in megawatts installed) with very minimal maintenance."
With the completion of the installation, the Hartford Landfill is now the first in the state of Connecticut — and one of few in the nation — to be transformed into a renewable energy source through the generation of solar power. Collected energy will be sold to the regional power grid in Connecticut. The CRRA plans to generate enough megawatts to power more than 1,000 Hartford homes. When the closure project is completed, the entire 96-acre landfill will be encapsulated with ClosureTurf.