The "Coolest Schools" in America rankings are out and the top school is University of California, Irvine. Compiled annually by Sierra Club, the rankings focus on America's greenest colleges. The ranking universities displayed a deep and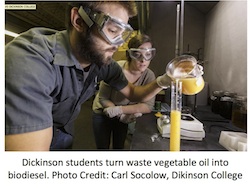 thorough commitment to protecting the environment, addressing climate issues, and encouraging environmental responsibility. More than 150 schools filled out an extensive survey created in a collaboration between Sierra and the Association for Advancement of Sustainability in Higher Education. Using a customized scoring system, Sierra ranked the universities based on their commitment to upholding high environmental standards.
"For eight years Sierra magazine has encouraged America's colleges and universities to fully embrace their unique and multifaceted role in tackling the climate crisis and protecting America's air, water, public health, and beautiful places," said Bob Sipchen, Sierra magazine's editor in chief. "From innovative research and development to powering campuses with wind and solar, to educating students in the most advanced thinking on sustainability, colleges and universities are leaders and models for the rest of society. Sierra magazine congratulates those that made our annual 'Coolest Schools' list."
Sierra magazine's top 10 schools of 2014 are:
1. University of California, Irvine (Irvine, CA)
2. American University (Washington, DC)
3. Dickinson College (Carlisle, PA)
4. Loyola University Chicago (Chicago, IL)
5. Lewis and Clark College (Portland, OR)
6. Stanford University (Stanford, CA)
7. University of South Florida (Tampa, FL)
8. Green Mountain College (Poultney, VT)
9. University of Connecticut (Storrs, CT)
10. Georgia Institute of Technology (Atlanta, GA)
This is UC Irvine's fifth consecutive year as a top 10 finalist, but its first time as the winner, thanks in part to its three on-campus solar projects, a 19-megawatt turbine cogeneration plant, and energy-efficiency goals that are consistently exceeded. Other factors that helped those at the top of our list: American University has D.C.'s largest solar array; Dickinson runs an organic farm; Stanford is divesting from coal; and USF supplies a solar charging station for electric vehicles.
"The Cool Schools ranking is yet another indication of how deeply young people understand the benefits of clean energy and of how adept they are at turning awareness into action," said Karissa Gerhke, director of the Sierra Student Coalition. "To capitalize on this power, the Sierra Student Coalition will join with students across the country this fall to launch the Campuses for Clean Energy campaign, a transformative movement that will demand 100 percent clean energy for campuses.