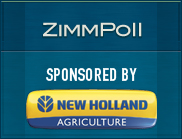 Our latest ZimmPoll asked the question, "What's your favorite way to eat peanut butter?"
It's official…you can put peanut butter on anything. We had votes all over the board with this poll. But it is clear people like peanut butter. Some of the top 'others' we got included apples and toast.
Here are the poll results:
PB & J – 19%
Crackers – 8%
On a spoon – 11%
With celery – 8%
Cookies – 14%
Candy – 3%
Pie – 3%
Ice Cream – 6%
Pancakes/waffles – 6%
Other – 22%
Our new ZimmPoll is now live and asks the question, What do you think of Right to Farm laws?
Missouri just narrowly passed a constitutional amendment on the right to farm and North Dakota has had one for two years. Is this necessary or is agriculture over-reacting?