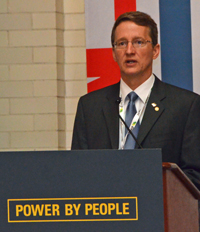 Environmental Protection Agency official Paul Machiele visited the American Coalition for Ethanol conference this week in Minneapolis to discuss various issues, including plans for the 2014 volume obligations under the Renewable Fuel Standard (RFS).
Machiele, who is director for Fuel Programs in EPA's Assessment and Standards Division, said they understand the rule is very important and they are working very hard to get it finalized as soon as possible. "I can't say when it's going to come out because that will depend in a large part on the review time when it gets into the interagency review process," he said. "That review can take anywhere from 30-90 days," he continued, saying he hopes it will be expedited.
"We were blessed with 300,000 comments on this rule-making and not only do we have to finalize the rule-making but we have to respond to the comments that we receive," said Machiele, adding that his staff is working on that project right now.
As it stands, Machiele says EPA has extended the compliance deadline for obligated parties so "they know what the standards will be for 2014 before they make their final decisions on buying, selling, trading, holding RINs for 2013." Meanwhile, he acknowledged that the 2015 standards should already be proposed by now, but they expect to get that done shortly after the 2014 rule is finalized and "hoping that we can move that to final rule a little faster."
Machiele also discussed final rules for new pathways, cellulosic feedstocks, and RINs, as well as Tier 3 regulations, and frankly answered several questions from producers at the conference. Comments from Paul Machiele, EPA