U.S. exports of ethanol totaled 59.9 million gallons (mg) in June, up 13% from the seven-month low in May, according to a Renewable Fuels Association (RFA) analysis of government data, and the opportunities are expanding.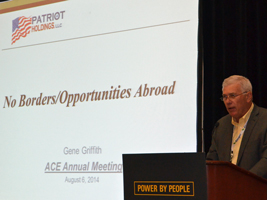 That was the topic for the last session at the American Coalition for Ethanol conference this week in Minneapolis and one of the speakers was Gene Griffith of Patriot Renewable Fuels in Annawan, Illinois.
"U.S. ethanol is the cheapest motor fuel in the world, it's needed and it can be blended in any country for clean air," said Griffith, noting that the industry will continue to grow and produce more than we need in the country. "We must develop these worldwide markets. It's not just Brazil, it's not just the United States, there's a lot of countries around the world that need our DDGs and our low cost, clean burning fuel."
Listen to Gene explain in detail here: Gene Griffith, Patriot Holdings, on ethanol exports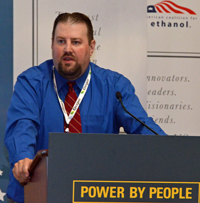 Clayton Haupt with CHS Renewable Fuels Marketing discussed China import issues with distillers grains, noting that the game has changed considerably since he was asked to do this talk in June.
"July 24, it was announced you have to have a government stamp that has to say (DDGS imports are) clean of all GMO traits not approved in China," said Haupt, noting that the U.S. Grains Council responded that simply cannot be done. "You're kind of put in an environment today that you're probably not going into China."
Listen to Haupt's presentation here: Clayton Haupt, CHS Renewable Fuels Marketing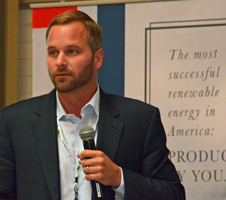 Lastly, Chad Martin with Eco-Energy wrapped up with an overall look at export markets.
"Ethanol demand is no longer driven solely by the U.S. blender," said Martin. "That's obviously a good thing but it comes with some complexities in terms of import quotas, different specs, different market factors to be considered…things our industry has never really had to focus on until we started exporting both distillers grains and ethanol." Chad Martin, Eco-Energy