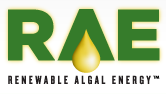 A company in the algae business is teaming up with a giant in power technology to produce algae for biodiesel at a commercial level. Tennessee-based Renewable Algal Energy, LLC (RAE) and Swiss-based ABB, a leader in power and automation technology, will collaborate to use ABB's technology for control and efficiency of algae harvesting and conversion process.
"We are honored that ABB has selected to work with RAE in the development of infrastructure for RAE's unique technology in complete integrated algal production systems," stated Jeffrey S. Kanel, Ph.D. and CEO of RAE. "To have the global leader in power and automation technologies as a strategic partner is a huge endorsement of RAE's ability to commercialize our technology in the creation of sustainable algal products."
RAE will produce the equipment that harvest and extract algae and its co-products, including oil, for renewable fuels, as well as proteins and carotenoids for animal feed and nutritional supplements. The scalable systems are designed for medium to large scale algae farms, up to 2,000 hectares (10,000 square meters). ABB will supply 800xA control systems, instrumentation, low voltage electrical equipment and variable speed drives that will help those integrated algal production systems operate efficiently and reliably. In addition to process control, 800xA provides remote access to the base control room on each algae farm, so that multiple locations can be viewed and managed by one operator. The variable speed drives help the pumps and motors operate at their peak energy efficiency, using up to 10% less electricity.
Officials from both companies say this will make the harvesting of oil from algae, as well as other products for nutraceuticals and animal nutrition, a much more efficient process, one of the biggest hurdles algae growers have faced in trying to make algae oil commercially viable for biodiesel production.