Several University of Minnesota students are giving the ethanol industry a preview of their cutting-edge research in biofuels, biochemicals and bioproducts during the 27th Annual Ethanol Conference in Minneapolis. One such student is Sahana Ramanna who is a PhD student who is working on improving the pre-treatment technologies used for biomass, specifically Aspen.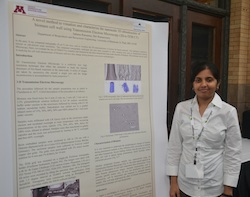 Ramanna explained that one of the most difficult and energy intensive parts of converting biomass (aka cellulose) to sugar is in the initial phase. Using 3D imaging, similar to the technology used for brain scans, she and her team are able to test "pre-treatment" strategies and see how it affects the structure of the biomass.
Ultimately, Ramanna said they are looking to increase the amount of biomass that can be converted into biofuels and other biochemicals and products, thus increasing the amount of biofuels. In addition, the processes they are looking at would significantly improve the energy efficiency during this process. Next steps – refining the process for Aspen and then testing it on other forms of biomass.
Listen to Sahana Ramanna discuss her research here: Interview with Sahana Ramanna
Another student I spoke with is just beginning his PhD studies and has spent the last year working on an interesting biofuels project. Joseph Molde works in the BioTechnology Institute and he and his team are working on a process called hydrothernmal carbinization using distillers grains (DDGs), a bi-product of ethanol production.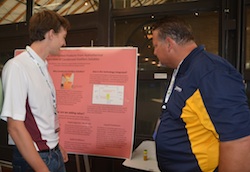 What is really neat is the process is producing two new possible co-products: liquid carbon and biochar. The liquid carbon can be used as an organic fertilizer on fields, while the biochar can be used in various applications including biomaterials and biochemicals. Molde said that similar research has been taking place in Europe, but not much has been done with biochar here in the states.
Molde also noted that the process improves efficiency throughout the production process – just one more way the ethanol industry is working to improve its technology and environmental footprint – while also adding valuable additional co-products to an ethanol plant's portfolio. He said they are scaling up the technology now and that he hopes to see it in commercial scale application in the next five to 10 years.
Listen to Joseph Molde discuss his research here: Interview with Joseph Molde
View the 27th Annual Ethanol Conference photo album.