This morning during the opening session of the 27th Annual Ethanol Conference, the American Coalition for Ethanol (ACE) launched a new campaign featuring the people of ethanol. Their redesigned website features personal and authentic stories of the people who built and continue to innovate the ethanol industry. In addition, ACE released a new video, "The Home Place".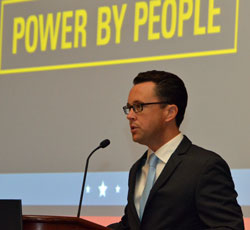 "Instead of keeping the industry's most valuable players on the bench and pouring all our trust and money into playing defense with facts-alone, ACE's Power by People campaign features the compelling and positive stories of the individuals and families who built the ethanol industry and those who support and continue to benefit from ethanol," said ACE Executive Vice President Brian Jennings during his state of the union address this morning.
"The story of ethanol is a profile in courage about grassroots people who, without any precedent to guide them, set out with their families and neighbors to rescue their communities from economic disaster by building ethanol plants," continued Jennings. "For far too long the stories of these people have gone untold, and that's why ACE is launching the new Power by People campaign."
Jennings said the organization has produced several video testimonials from people of all walks of life that ACE members can use to promote ethanol on their websites, through social media, and in meetings with the public. He also noted the group plans to continue and expand the campaign in the months ahead.
Listen to Jennings' opening comments at the ACE conference: Brian Jennings, ACE Executive VP
View the 27th Annual Ethanol Conference photo album.