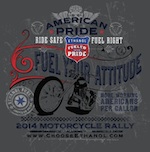 Many bikes are already rolling into the Black Hills of South Dakota ahead of the 74th Annual Sturgis Motorcycle Rally which officially kicks off on Monday. The Renewable Fuels Association (RFA) will once again be there at the Sturgis Buffalo Chip campground to promote ethanol to the motorcycle set. Approximately 500,000 motorcyclists from all over the world gather in Sturgis, S.D., for the week-long rally that offers a unique opportunity to promote the benefits of high-octane, low-cost ethanol.
Robert White, director of market development for RFA, says this year marks the 6th year that RFA has been involved in the annual Sturgis Motorcycle Rally and the Free Fuel Happy Hours are back by popular demand, offering motorcycle riders a free tank of E10 93-octane fuel. The fuel is brought in specifically for the rally and riders can receive their free tank at 1–4 pm Tuesday-Thursday, August 5-7. Robert says that they really just want to help educate the riders about using E10 in their bikes.
I'll be attending the rally this year with RFA and looking forward to the Legends Ride as well as spending time at the Buffalo Chip Campground that turns into quite the entertainment junction where many of the concerts will be taking place. Domestic Fuel will have all your coverage from Sturgis Motorcycle Rally once again. Stay tuned!
Interview with Robert White, RFA