The 2015 U.S. Biogas Producer Map and list is now available from Biomass Magazine. The online map plots the location and status of all U.S. biogas production from on-farm facilities and waste water treatment plants producing grid-connected bioenergy.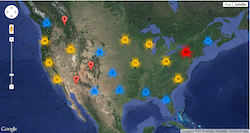 "We're very excited to take our first step towards bringing our biogas data and map offering to the same level our readers and audience enjoy in the biomass power, pellets, advanced biofuel, ethanol and biodiesel segments," said Tim Portz, vice president of content and executive editor at BBI International, the publisher of the magazine. "Biogas is an exciting piece of the larger biomass-to-energy space that is experiencing great momentum right now."
BBI said they are investing substantial resources into the project due to a lack of aggregated data on biogas production available to the public. According to Portz, "The biogas industry is a challenging one to get your arms around from a geospatial and data perspective. Digesters are deployed into so many different industrial and agricultural applications and they are capable of producing heat, power or vehicle fuels. They are unique in that way and drawing a box around which digesters to include was a challenge."
The team at Biomass Magazine focused on creating a comprehensive and accurate dataset available for anyone looking to find information about biogas producers. "We decided two years ago that for an online map to be of any value, we had to move towards dropping the pin right on top of the facility," added Portz. "For a long time, our online maps were like most of the others that are available. The pin was dropped on a zip code or a street address of an administrative office. We went through the effort to identify the exact latitudes and longitudes of each facility in the industries we cover and the difference is immediately apparent."
The biogas producer map currently highlights on-farm digesters and wastewater treatment plants that deliver electricity to the grid. Over the course of the next several months Biomass Magazine will be adding community digesters and digesters that deliver a thermal load to industrial facilities such as breweries.