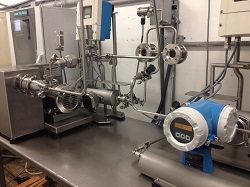 A biodiesel maker in New England is turning to the crowd to get a little help with its next upgrade and expansion. New Hampshire-based Granite State Biofuels has set up a crowdsourcing website to solicit money for a new piece of equipment with a goal of raising $50,000 total.
We need to purchase analytical equipment which will help us to refine our process in real time. Right now, independent testing labs take several days to report results and are expensive. This $40,000 investment will significantly increase our speed of development and lower our cost of production.
If we are fortunate to secure additional funding, we will use this to begin the process of establishing our second production facility. It has always been our plan to establish a source of clean renewable fuels suitable for marine and then jet applications. Biodiesel is truly biodegradable, it is less caustic than salt and biodegrades faster than sugar making it an ideal fuel for use on and around our precious oceans and fragile atmosphere. These industries know they need to have alternatives but they are simply not there in the quantities required. Numerous market research efforts are predicting very high demand and growth in these areas and we feel we have the technology to deliver in these markets.
Granite State Biofuels currently operates a 3.75 million gallons per year biodiesel production facility.