A new report from the Natural Resources Defense Council (NRDC) looks at how federal agencies and other large commercial customers can buy sustainably produced biofuels and avoid those linked to things such as defined by NRDC as major deforestation, destroyed wildlife habitat and fouled waterways.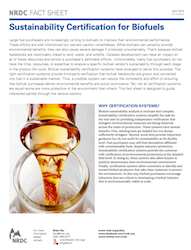 The report "Biofuel Sustainability Performance Guidelines," was commissioned by NRDC and authored by LMI as was written in response to large fuel consumers begin to pivot toward more plant-based fuel options to boost their "green" credentials and sustainability efforts while reducing their use of fossil fuels. The report is intended to help guide fuel buyers such as federal, state and municipal bulk fuel procurement officers, contractors and suppliers, and corporate sustainability officers.
"Biofuels can be a clean alternative to dirty fossil fuels, but they're not all created equal," said Brian Siu, senior energy policy analyst at NRDC. "Some biofuels are produced in ways that endanger precious land, wildlife and the environment. As the U.S. government and large business expand their use of biofuels, they should ensure they come from sustainable sources, and relying on the best certification systems can help them make these smart choices."
According to NRDC, many large fuel buyers are beginning to understand the risks of poorly sourced biofuels, but are unable to determine whether their biofuels are produced sustainably. Third-party certification systems can provide this service, but vary significantly in stringency and protectiveness. The non-profit said a sound certification system should check each stage for impacts on water quality, soil, biodiversity, air quality, land use, and waste. It also should check for the social impacts on economic issues, human rights, food security, and workforce safety.
Study lead Jeremey Alcorn, senior consultant with LMI, said of the report, "NRDC offered LMI an exciting opportunity to apply our practical analytical experience to analyze established and emerging biomaterial and biofuel sustainability certification standards, and we believe that this report will fill a critical need by informing bulk biofuel procurements and enabling a better understanding of the utility of different certification programs in achieving enhanced sustainability performance."
To help stakeholders, NRDC's report examined seven leading programs that certify biofuel production practices for sustainability. The Roundtable on Sustainable Biomaterials ranked best. RSB ranked best for helping to ensure economic, environmental and social sustainability of biofuels production practices in places such as the United States, Indonesia, South America and Asia.