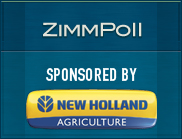 Our latest ZimmPoll asked the question, "What are your thoughts on cellulosic ethanol?"
As the possibility of cellulosic ethanol grows it looks like popularity will as well. We may be far from buying it at the pump, but people still seem to be excited about the technological innovation.
Here are the poll results:
Innovation making it happen – 43.2%
Very important renewable fuel – 21.6%
Still years away from commercial market – 27%
Will never work – 2.7%
What the heck is it? – 5.4%
Our new ZimmPoll is now live and asks the question, How can technology make farming even better?
We've been covering lots of precision farming conferences this summer, from the recent Precision Aerial Ag Show in Illinois, to this week's International Conference on Precision Ag in California, to next week's InfoAg Expo in St. Louis. Sometimes it seems like farming can't get any more technological – but can it? What would you like to see on the farm that has yet to become commercially available?